Industrial development land brochure – download for free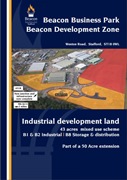 With infrastructure works now completed to provide access to the development land, a new brochure on industrial development land is available to download. It is full of information on everything you need to know if you considering a business development in this prime location in Staffordshire.
Inside you will find a site master plan and a complete listing of planning uses, which range from light industrial plots of 38,000 sqm, to storage and distribution space of 11,000 sqm. There is also detailed plot layouts and information on rent and VAT.
We also detail the current economic developments in the area, including the building of 3,000 news homes and the expected arrival of around 1,2000 personnel and their families to the nearby MOD Super Garrison.
The brochure also highlights the improved site infrastructure, location and local transport networks, traffic flow and population statistics.
Click here to download a PDF version of the brochure.
For more information about our commercial development land for sale and let in Staffordshire, please contact ISE Estates on 01785 256098 or email info@espleys.co.uk.

Share on social media