Knot and Plough pub to open 8 June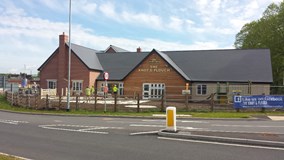 It has been announced that the latest pub from Marston's PLC in Stafford, the Knot and Plough at Beacon Business Park, will officially open on 8 June. The pub is currently in its final stages of construction and fit out.
Stuart MacDonald and Marie Macdonald have been appointed as managers and are recruiting to fill 40 jobs in the new pub. It is all part of the brewery and pub operator's' new build development plan across the country, and will be the first new enterprise on Beacon Business Park's 50 acre extension.
The Knot and Plough will boast a varied and extensive menu with a daily carvery offering a choice of three succulent meats carved by friendly chefs.
For information, and the chance of free drink visit www.knotandploughpubstafford.co.uk.

Share on social media