Weston Road sculpture takes shape
The directors of Beacon Business Park are donating a stainless-steel sculpture to be situated on the roundabout at the junction of Weston Road and Blackheath Lane. Construction has already started on a concrete base by Staffordshire County Council in readiness for the imminent arrival of an innovative Stafford Knot & Beacon sculpture which is being created by local sculptor, Neil Wood.
We visited sculptor Neil Wood at his studio in Brocton to hear about how he was approaching the commission and see how the structure was taking shape.
The initial concept had been designed by Colin Butt and comprises of a series of metallic arms which, when viewed from the Weston Road East or West, will indicate the county's distinctive Stafford knot. Anyone seeing the sculpture from Blackheath Lane, or on exiting the business park, will see a beacon.
"We were delighted to find an accomplished and nationally-renowned sculptor locally," said Chris Simmons, one of the directors at Beacon Business Park. Chris had approached Neil Wood, who usually creates designs from scratch. Neil is producing the sculpture from a small model which had been created on a 3D printer.
'The first stage was to modify the design and work the concept up into a maquette which is 800mm across by 700mm' explained Neil. 'This involved figuring out how to construct the pieces and assemble them, taking into account the weight of the metal. We also had extensive consultation with the County Highways department to take safety issues into account.'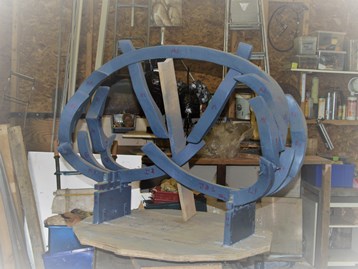 The maquette of the Stafford Knot & Beacon sculpture
Once Neil was happy with the maquette, the next stage was to create templates for each of the 'arms' and to build a skeleton framework, onto which the stainless-steel plate could be fastened and welded.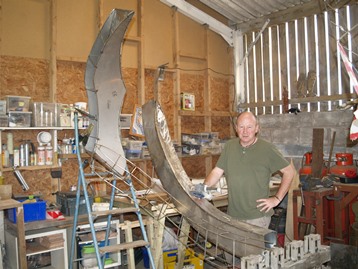 Sculptor Neil Wood, pictured with three arms of the sculpture in different stages.
The sculpture is being constructed from British Stainless Steel (12 sheets of 225 x 212 mm) and will have a brushed finish, first de popular by the American sculptor David Smith and his series of 'Cubi' sculptures produced in the early to mid-1960s. This will be long lasting with an attractive sheen, without the risk of dazzling drivers in bright sunlight.
Commenting on this commission, Neil said "'It is quite a departure for me to work to a very specific brief, but I've enjoyed the process. As the full-size piece is taking shape, It is possible to appreciate some of the semi-abstract qualities that you don't see in the smaller models and I'm looking forward to seeing the finished piece in-situ, which should be during August.'
Neil has been a professional sculpture and fine artist for over 25 years and has worked in various settings; in education, as artist in residence and visiting lecturer, alongside producing sculptures for exhibition and commissions.
His creative output varies from the purely abstract to the naturalistic, exploring formal material qualities and visual language as a means of expressing often complex ideas about the world. Over the last decade his practice has concentrated on the human form, expressed in a semi-abstract way by constructing and manipulating steel, stainless steel and bronze.
More information on Neil's work can be found at www.neilwoodsculpture.co.uk.

Share on social media