New prominent roadside frontage brochure available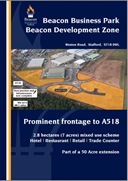 For more information on our commercial land and property for sale at Beacon Business Park, you can now download our free updated brochure.
Inside you will find a site overview detailing a range of commercial plots, available for sale or lease, in this economically developing part of Staffordshire. Find out the range of commercial property opportunities available, as well as the wide range of sized plots available from 0.3 acres upwards.
There are seven acres of commercial land available for mixed use, including hotel, restaurant, retail and trade counter business units. Find detailed information on these inside the brochure and discover what current and future economic developments there are in the Stafford area. For instance, did you know that 3,000 homes are being built nearby and around 1,200 personnel and their families are due to arrive at the MOD Super Garrison?
Comprehensive infrastructure and location details are also inside, including traffic flow and population statistics. With around 300,000 visitors per year visiting the Staffordshire County Showground next door and over 1,000 cars passing the park every hour, it is easy to see why Beacon Business Park is such an attractive spot for businesses.
Click here to download a PDF version of the brochure.
For more information about our commercial property for sale and let in Staffordshire, please contact ISE Estates on 01785 256098 or email info@espleys.co.uk.

Share on social media