Local Information
Click here to download a pdf map of the location and access to the site.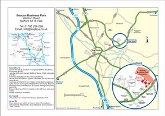 Good Access
Beacon Business Park is situated in the heart of Staffordshire, UK. Its prime location is just 4.5 miles from the M6.
The location is also central to other UK motorway networks such as the M54 and the M42. Other major road links in the area include the A50 and the A34.
Public transport near Beacon Business Park is available with Stafford railway station only 2.5 miles away from the site. Regular trains arrive here from London, Liverpool and Manchester. The railway station is served by the West Coast mainline and it takes as little as 1 hour 20 minutes to get to London Euston by direct train, 55 minutes to Manchester and 30 minutes to Birmingham.
Beacon Business Park is situated adjacent to the 5A bus route in Stafford which connects to Stafford town centre and the railway station.
Stafford Intercity Train Station is on the West Coast mainline, with frequent services to London - 1 hour and 20 minutes (Virgin Trains)
The great transport links in and around Stafford provide access to a number of major UK cities
Birmingham City Centre 27 miles
Coventry 46 miles
Derby 33 miles
London 142 miles
Liverpool 69 miles
Manchester 56 miles
Nottingham 48 miles
The park is within one hour's drive of four regional airports
Birmingham Airport 39 miles
Manchester Airport 55 miles
Liverpool Airport 66 miles
East Midlands Airport 43 miles
Local Economy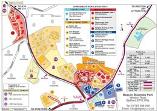 Major employers in Staffordshire include
Alstom
Perkins Engines
ABB
JCB
Iron Mountain
Colina
Altechnic
Amazon
There are approximately 8,000 employees within a 10 minute walk of Beacon Business Park
Useful links
North Staffordshire Chamber of Commerce & Industry
Tourist Information Centre Stafford
Staffordshire County Showground